SleepSafe® Bed Padding Option
VERY IMPORTANT NOTE:


When ordering your bed, please indicate

with

or

without

padding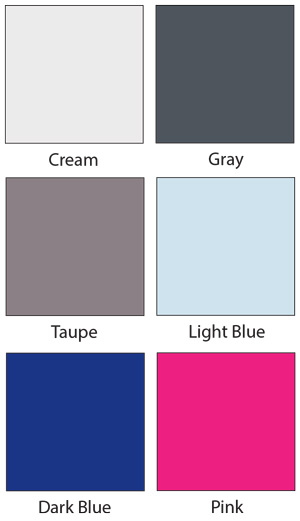 SleepSafe® Beds are sized and manufactured with or without padding. Please make this determination when you order your bed. Retrofitting your bed in the future will be costly. If you order padding it will be installed at the factory and will cover ALL four sides. Padding only one or two sides is NOT an option. PADDING INFORMATION
If you order padding with your bed it is very important to follow our recommendations by NEVER using the bed if you have removed one or more of the pads. If you remove ANY of the pads, a gap will be created between the mattress and the sides of the bed potentially creating a risk for entrapment.
Six colors of padding are currently available: Cream, Gray, Taupe, Light Blue, Dark Blue and Pink.
SleepSafe® Bed IV Pole Option / Channel Cut-Out
You can order your bed with or without an IV Pole attachment. It comes with a mounting bracket and can be installed anywhere on the headboard or footboard. It is a 30 inch stainless steel pole with 4 ram hooks.
Note: We may also be able to modify a bed with a channel cut-out in the headboard or footboard to accommodate medical tubing. Channel Cut-Out covers are available as an option. Please call us 866-852- 2337 for details, as each case for this application differs.
SleepSafe® Beds provides retrofit for DREAMA™ Positioning System by Jenx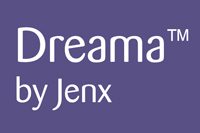 The Dreama™ by Jenx is a support system for effective 24-hour postural management, suitable for children and adults. Ask your DME or visit their website for more information. We can also help. Call us at 866-852-2337.
IMPORTANT: When ordering the Dreama™ System with a new bed or installing it into a SleepSafe® Bed that is in use, a RETROFIT kit must be ordered. This kit modifies the Dreama® system at the factory to fit correctly within the SleepSafe® Bed. This kit is an additional charge and needs to be considered when applying for insurance coverage.
• Dreama™ Systems are shipped directly to the factory and are modified to correctly fit SleepSafe® Beds.
• Allows for good ventilation and airflow
• Easy to keep clean and hygienic
• Can be used to position the user in an abducted lying position to aid hip development
• Infinitely adjustable positions thanks to the uniquely designed glide lock system
Dreama™ Brochure / Help with LMN / Case Study  / Order Form / Retrofit Instructions
Unique Bed Widths and Lengths are Available
As manufacturers in the United States, we have infinite in-house control of our capabilities. This includes the ability to customize the widths and lengths of our beds. For example, we can manufacture a bed that can fit through a 36″ door or extend to 84″.  For information, call us toll-free at 866-852-2337.
Screened Mesh Windows are Available in Safety Rails
The lighter weight, screened safety rails on our SleepSafer® Bed offer improvements to the overall operation and potential comfort for the loved one using the bed. The screened safety rails offers improved ventilation for sleeping environments.  For information, call us toll-free at 866-852-2337.
SleepSafe® Bed Headboard and Footboard Window Options
You can order your bed with or without a headboard or footboard window.
The need to see and be seen is very important for care givers and the person using a SleepSafe® Bed. Since every situation is different, we added the option of ordering windows that can be installed in the headboard or footboard. This is helpful when ordering the SleepSafer® – Tall Bed as it allows more visibility.